Ray Fisher's Judson Corvair Trike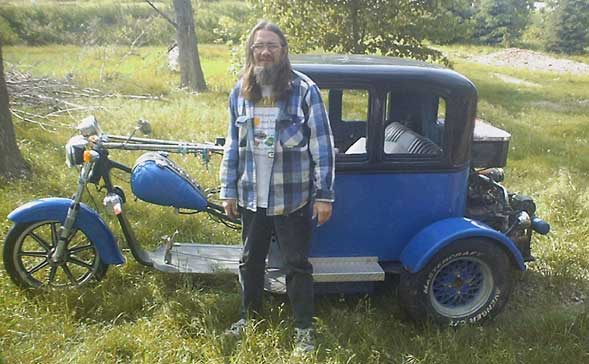 Ray Fisher's trike has quite a family history about it. As you can see it is a mixture of several decades of the twentieth century. The basis for Ray's trike is his mother's first car, a 1929 Ford Model A. At the end of it's useful life the Model A was dispatched to a ditch where it spent the next 40 years.
When Ray formulated the idea for a trike he brought together an number of components he'd assembled over the years; a Corvair engine, a Judson Supercharger and to bind them all together, Mom's first car or at least the back half of it.
The Corvair engine is from a '66 and the trans-axel is from a '62. Ray had a fair bit of welding to do to rescue the A's bodywork which unsurprisingly had rusted badly over forty years of neglect.
All the other welding fabrication was carried out by Ray himself to produce what is a very unusual vehicle.
Ray loves his trike to death and with the Corvair 6 cylinder engine and a Judson Supercharger pushing out 7 or 8psi of boost it's quite a stirring ride.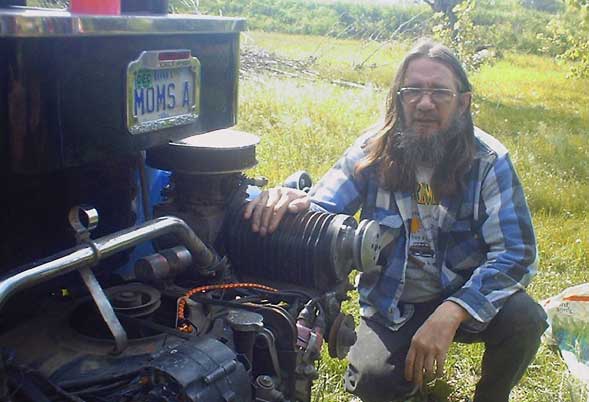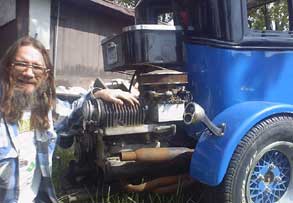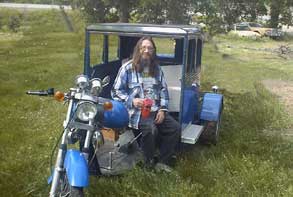 ---