This is a website aimed at both the avid Judson Supercharger enthusiast and the merely inquisitive.

All you needed when we started this site in April 2000 was a VW and an interest in getting a little bit more from the meagre resources of your 30/36 or 34/40hp engine. Now we are pleased to embrace other marques too, Corvair, Sprite, Triumph, Renault Dauphine, Mercedes 190 Flathead Ford V8 and Volvo, in fact all the marques Judson catered for when they introduced their sliding vane supercharger.
This is in essence an interactive site, a self help group of enthusiasts who run Judson Superchargers on their classic cars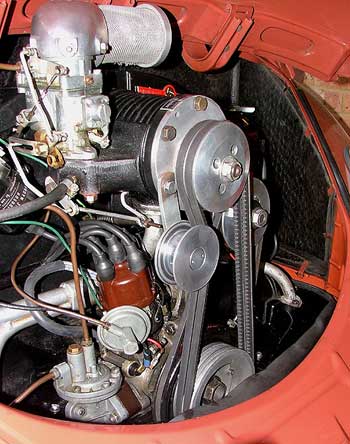 and are looking to share their knowledge and experiences with others. You can join our Mailing List to be kept up to date on Judson Developments, (they do still happen) by clicking the Email button and quoting "Subscribe".
In the following pages we hope to inform and enthuse classic car owners with the merits of what is still a practical period accessory.

If you have always wanted a Judson but didn't know where to find one, maybe you'll find one here in our Buy & Sell section.
If you own a Judson maybe you'd like to share your knowledge and experiences with other owners by Emailing us with your stories or entering into a discussion on a related topic in our Forum section.

If you've bought a Judson and you don't quite know what goes where, check out our Installation Page, the F.A.Qs. Page or email us with your questions.

We also have a Gallery for pictures of your car. If you'd like your car to become internationally famous, email us a good quality picture (more info on the Gallery page) and we'll find room for it.
This site is based in the U.K. but of course the web has no boundaries, so wherever you are, if you have a Judson Supercharger or just an interest in them we'd like to hear from you.